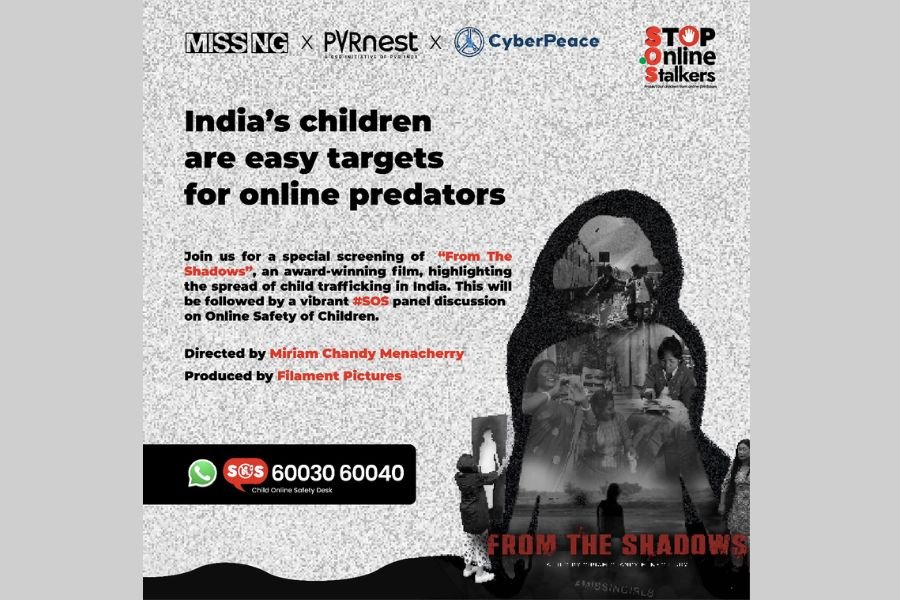 Launch of SOS Community to Stop Online Child Abuse and a special screening of From the Shadows, an award-winning documentary film on Child Trafficking in India at PVR, Juhu
Read Time:
7 Minute, 22 Second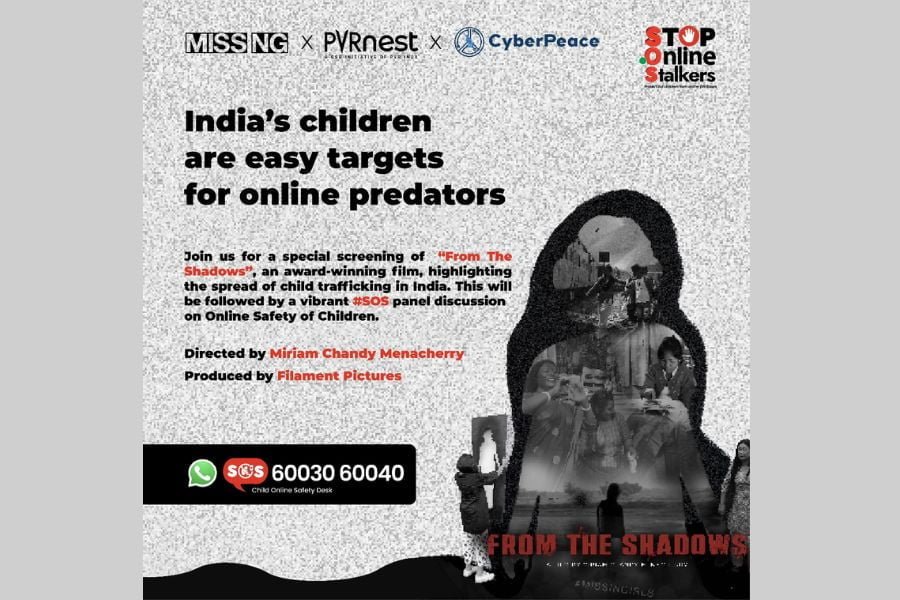 Mumbai (Maharashtra) [India], September 18: Every 10 minutes a child in India either goes missing or is abused. The #SOS Campaign is an urgent intervention effort by NGOs Save Missing Girls and CyberPeace, in partnership with PVR NEST, to tackle the distressing spike in online child abuse in India, a not-so-known side-effect of the lockdown. Cyberspace has become the preying ground for child predators and as long as the issue is unreported and undiscussed, it remains in the shadows, allowing these criminals to get away with the abuse, scot-free.
#StopOnlineStalkers (#SOS) attempts to give children and their families a voice, to nudge the issue out in the open by encouraging communities to create safe spaces for their children to speak up, to offer them solutions and information on the issue, and its control and prevention. #SOS is an attempt to bring together all the stakeholders – children, parents, schools, mothers, fathers, communities, psychologists, cyber safety experts, policymakers, law enforcement agencies, and local administrations. Any one of these working independently cannot address the issue holistically. The intervention requires all of the above to unite and begin a dialogue. We have created a platform for this dialogue called #SOS.
The SOS Campaign has kicked off with a first-of-its-kind awareness-building Public Service Announcement (PSA) film on the issue, which is being shown across the country at PVR INOX Cinemas to educate nearly 20 million parents, families, and children. The PSA gives everyone a clear understanding of the nature of cyberspace today. The PSA film introduces the SOS Child Online Safety Desk, an innovative WhatsApp-based tool that provides 24/7 information and assistance to parents and children grappling with this issue, by connecting with 60030 60040.
The SOS Forum in multiple cities are Talk Show with schools where students are given a safe platform to express their concerns and experiences. SOS Mums is a group of proactive mothers who have already started raising awareness about the #SOS campaign and the underlying issue. Vigilant parents are invited to join the SOS community, become aware, and advocate to create safe spaces to empower children, both online and offline.
Leena Kejriwal, the Founder of Missing Link Trust said, "Trafficking like everything else evolves. It's been rapidly changing to take the form of online trafficking and impacting millions of people more since it's bound neither by geography nor the logistics of the trafficker."
"Through the PSA film and the #SOS campaign, our objective is to dismantle the silence surrounding not only child sexual abuse but a form of abuse not widely discussed – CSAM. We have a WhatsApp chatbot on 60030 60040, the SOS Child Online Safety Desk, to offer 24/7 information and resources to anyone from a worried child, worried parents, and concerned teachers. Today, every 10 minutes, a child in India either goes missing or is abused. It is time to raise the alarm!" she further added.
On 15th September at PVR Juhu, the SOS Community will host an event to have an open discussion on children's online safety with subject matter experts like Nirali Bhatia, a cyber-psychologist; Ms. Khushbu Jain, a data privacy and technology lawyer practicing in the Supreme Court and High Courts of India; and Dr. Nilakshi Jain, a certified Hacking & Forensic Investigator and Ethical Hacker, a cyber security specialist representing CyberPeace; following the screening of From the Shadows, an award-winning documentary on child trafficking in India.
The internationally acclaimed documentary directed by Miriam Chandy Menacherry, showcases the extent of child trafficking in our country and the work being done by anti-traffickers like Leena Kejriwal, the co-creator of #SOS and founder of #SaveMissingGirls.
The film follows two women working with survivors of child sex trafficking to take on the trafficking nexus in the country. Leena Kejriwal, the founder of Save Missing Girls and the artist behind the #missingirls public art project, stands by Samina's protracted battle against her traffickers, who hail from her village. And there is Hasina Kharbhih, a veteran activist who is helping rescued young girls get across international borders.
Filmmaker and Director of "From the Shadows", Miriam Chandy Menacherry said "It is truly heartening to see the strong response From the Shadows has got in Mumbai. The houseful PVR show demonstrates that even in the entertainment capital of India, people are hungry for real films and real people. Our documentary has taken 6 years to capture the story of India's missing girls. The survivors in the film have been courageous to share their stories and the more the audience connects… they will find ways to prevent the next child from going missing".
The director, Miriam Chandy Menacherry, is a filmmaker known for spotlighting lesser-known stories of real people through acclaimed documentaries such as Rat Race and Lyari Notes. Produced by Filament Pictures, From the Shadows captures the glimmer of hope when women collaborate in a determined bid for justice. The film has been honored with multiple accolades. It had its India premiere at the International Documentary and Short Film Festival of Kerala (IDSFFK) in August 2022; and its international premiere at a special screening hosted by South Asian House and Global Media Makers alongside SXSW Film Festival, Austin 2023. The film was also shortlisted for the 'Breaking Through the Lens' platform for women filmmakers at the Cannes Film Festival in May 2022 and has recently been granted a Hatched social impact grant by Chicken & Egg Pictures, USA.
The film was screened as part of PVR NEST's initiative to use cinema as a medium for social change. PVR NEST is the corporate social responsibility arm of PVR INOX, India's largest cinema exhibitor. PVR NEST aims to spread awareness among its audience on online child abuse and child trafficking.
Deepa Menon, Founder Head, PVR NEST said, "Cinema leaves a lasting impact on the message being played on the big screen. It has a transformative power to shape an individual's personality and eventually shape society. PVR INOX as the largest cinema exhibitor has been effectively utilizing its medium for societal good influencing young minds to causes that concern humanity and our environment. Through our association with the Missing Link Trust and CyberPeace, we feel proud to spread awareness among our highly engaged audience on online child abuse and child trafficking and change people's outlook and sensitize them towards their social issue".
About Save Missing Girls
The creators of #SOS, Save Missing Girls is an award-winning organization that works towards the prevention of sex trafficking through education and empowerment. They believe that awareness equals prevention and employ innovative methods involving art and technology to combat child trafficking in India. Save Missing Girls' initiatives are designed to reach every possible corner of society through their engagement with schools to educate students, parents, and educators; their city-level outreach programs include media, art engagement, games, podcasts, murals, an AR app, and more. The Missing Girl silhouette embodies their work and has become a recognizable symbol for the fight against girl trafficking. Please visit, https://www.savemissinggirls.com/
About CyberPeace (CP)
CyberPeace Foundation is the world's first non-profit civil society organization and think tank of cyber and policy experts with the vision of pioneering CyberPeace initiatives to build collective resilience against cybercrimes & global threats of cyber warfare. As a pioneer in CyberPeace advocacy, CP is on a mission to promote "Technology for Good" beyond borders. CyberPeace is involved in policy advocacy, research, and training related to all aspects of cyber peace and cyber security. Key areas of CyberPeace work are technology governance, policy review, and advocacy, capacity and capability creation, and building through partnerships with various government organizations, academic institutions, and civil society entities. Please visit, https://www.cyberpeace.org/
About PVR INOX
PVR INOX Limited is the largest film exhibition company in India with 1708 screens across 361 properties in 115 cities (India and Sri Lanka). Since their inception, both PVR and INOX have created iconic cinema brands with storied histories of achieving significant milestones and setting benchmarks in the film exhibition industry. PVR NEST is the CSR arm of PVR INOX Limited that works under Public-Private Partnership Models (PPP) towards transforming urban spaces to make cities more sustainable and building an equitable society. With a focus on women, children, and marginalized sections of society, PVR NEST places great emphasis on the areas of education, poverty alleviation, sanitation & safety, gender equality, and environment.
Please visit https://www.pvrcinemas.com/
Aashi Chaturvedi: +91 9871210640, +91 885 140 9666, aashi@lexiconworld.co.in
If you have any objection to this press release content, kindly contact pr.error.rectification[at]gmail.com to notify us. We will respond and rectify the situation in the next 24 hours