OBL – A Unique, Eco-Friendly and Luxurious Holiday Destination
Read Time:
4 Minute, 11 Second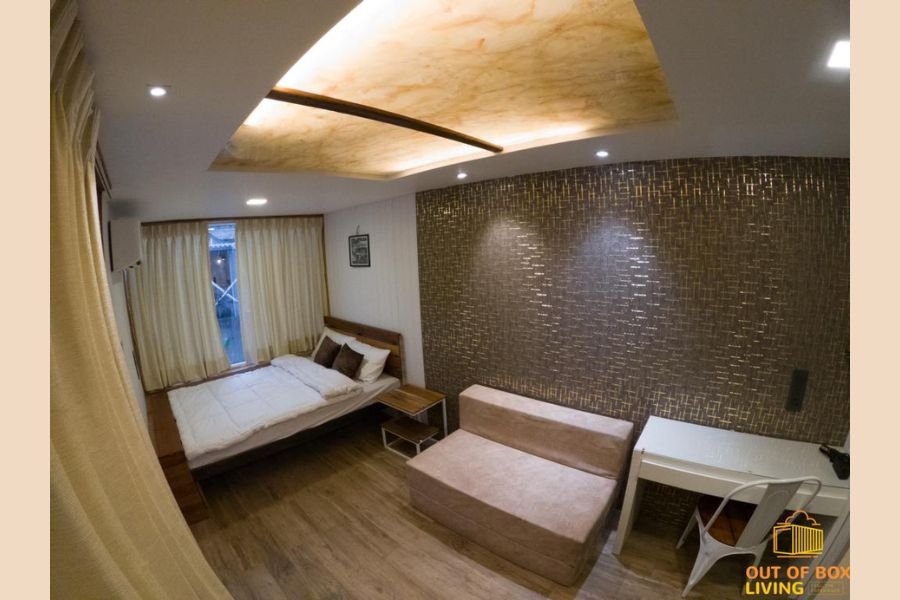 New Delhi (India), June 5: Out of Box Living is a unique, innovative beach resort in Alibaug that offers ease and luxury amidst beautiful nature. The beach resort is also a part of 'MVK Phoenix' an eco-friendly initiative that endorses a sustainable lifestyle.
MVK Phoenix LLP is a group that finds immense pleasure in taking up new challenges to offer fine services to each client. MVK's chief USP is a creative and progressive mindset that motivates them to perform exceptionally well. The organization does not compromise on quality and utilities while working for its clients, and its ultimate aim is to cater for each one with the best services. This is all because of the founder of the business – Mr. Milind V. Kawale. Its because of his vision the concept of luxurious container homes is getting spread. Mr. Milind V. Kawale is a mechanical engineer, and with his brilliant idea, people are enjoying minimalistic living in a luxurious way.
'Out of Box Living' is the most attractive and exciting project by MVK Phoenix. It is a great example of eco-friendly modern living with a touch of nature for experiencing an ideal holiday. The key values at MVK are Sustainability, Simplicity, and Style. It is indeed the most exclusive beach-side resort in Alibaug for a luxurious and comfortable stay. Experience a deluxe vacation period with them by living in their modern container homes and fulfilling your ideal vacation dream.
Both modern and traditional lifestyles inspire this resort. They offer high-quality, comfortable homes for guests to reside in. In collaboration, MVK Phoenix and Out of Box Living work to build optimum homes for people and promote the idea of an eco-friendly, affordable recycled homestay. They believe this modern architecture will help reduce carbon footprints and motivate individuals to go green.
Innovation begins with a difference; thus, MVK builds homes to endorse that change around us. The resort has a perfect setting for all travellers willing to experience the natural touch of Alibaug.
Book one of the most exclusive container BOX to experience a minimalistic lifestyle and be a part of our moral initiative to lessen carbon footprints.
Not only this, but they provide an 'Experience Holidays' by giving an opportunity to enjoy a Night Trail with an expert, get more connected to nature and get amazed by night creatures.
Also, guests can enjoy the 'Silent Disco at the OBL, and they can dance on their own rhythm. This is the best example of celebrating happiness in a unique way without noise pollution.
Step out of city life and connect to nature by living amidst the landscapes. Out of Box Living is the perfect destination to seize complete advantage of the openness and beauty of nature.
OBL has simple and aesthetic homes where one will certainly feel the warmth and enjoy a luxurious stay with high-quality amenities. Also, by living in these vacation homes, you can test drive your future container home, farmhouse, or guest house and decide whether you wish to build one for yourself. So, if you are looking for affordable, secure, and portable units that meet your space-specific needs, these container homes could be an ideal futuristic living space for you.
MVK Phoenix creates spaces with specifications and tailors them according to your individual needs to make you feel at your best. The services include single units and full-home construction provisions.
The main intention of Out Of Box Living is to offer comfort and revolution. Thus we build container homes considering the needs of people as well as nature. MVK Phoenix believes in developing for the betterment and constructing tiny container homes by, Reducing Reusing, Refusing, Repurposing and Recycling waste.
The thought of limiting our carbon footprint and living in a recycled home encouraged us to build tiny homes out of Shipping Containers. Their minimalistic design ensure more openness to nature and are creative solutions to experience cozy and pleasant living.
They are now introducing the most affordable exclusive, luxurious bungalow with the N.A. Land at nature lover's paradise 'Alibaug.' It's a good opportunity to invest in Alibaug to have a second home, relax and chillax and can earn a good amount of money by renting the unique kind of bungalow with a good amount of amenities.
In addition, they are also introducing a franchise model of 'OBL' and looking forward to acquiring the best for both parties involved by working on common interests. They believe in teamwork and growth; thus, introducing this eco-friendly model to the Indian market will certainly change the lifestyle in the country and reduce carbon footprint effectively.
Please check the Out of Box Living website to contact and know more details- www.outofboxliving.com
If you have any objection to this press release content, kindly contact pr.error.rectification[at]gmail.com to notify us. We will respond and rectify the situation in the next 24 hours.