Bihar student wins all India Chinese Bridge – Chinese Proficiency Competition
Read Time:
3 Minute, 32 Second
Mumbai (Maharashtra) [India], June 26: Blending with a mesmerizing view of the Sunset adorned by the famous Queen's Necklace at the Roof Top of Trident Hotel, Ms Ma Jia, Chargé d'affaires of Chinese Embassy in India announced Vishal Anand, a student from Lakhisarai district in Bihar as the winner of the 22nd Chinese Bridge – Chinese Proficiency Competition for College Students India.
Addressing an enthusiastic gathering of 10 finalist college students, teachers, their parents and the distinguished personalities, Mr Kong Xianhua, the Chinese Consul General in Mumbai stated, "Building a Better World together with Chinese Language as the Bridge and emphasizing that this competition carries a lot of meanings. Mumbai-China connections have a long history. Centuries ago, Chinese craftsmen and merchants travelled thousands of miles across the ocean to Mumbai, set down roots and lived for generations. Today we can still see traditional Chinese temples and Chinese customs here. They are the testimony of peaceful and harmonious interaction between Chinese and Indian people."
"My speech was on the topic – One Humanity, One Family as the theme was One World-One Family and since the competition has 3 parts – a speech on the theme, a quiz competition and showcase our talent where I prepared a Chinese cuisine Ma Po Dou Fu," mentioned the elated Vishal Anand, the winner who would represent India in the World Finals of this competition.
Among the other dignitaries present were Zha Liyou, Chinese Consul General in Kolkata, Xing Tongqing, CEO of Bank of China, India Branch, Kranti Prabhu, President of India-China Friendship Association Maharashtra Branch, Dr Sumangala Borkar and Dr Rajan Borkar, the family of Dr. Kotnis and other academic leaders of India and China.
Signifying the selection of Mumbai for the finals, the Chinese Consul General in Mumbai pointed out that it was in 2014, Shanghai and Mumbai established sister-city relationship. Sharing similar destiny and glowing with vibrancy, the two sisters are working together to enhance China-India cooperation and lead the rise of Asia.
"The selected student would be representing India at a Chinese Global level competition in Beijing, and this year it is grand as we have Chief guests from the Chinese Education Department as they are here to participate in G20 events. This year the competition has a larger participation from students from all over India," stated Nishith Shah, Founder and Principal of India China Academy who has designed and co-organized the event. India China Academy promotes Chinese culture and provides training in Chinese language.
"Chinese and Indian civilizations share a common soul and hence the theme of this year's Chinese Bridge Competition was on Chinese civilization that believes in 'One World, One Family' much alike Indian civilization's value of 'Vasudhaiva Kutumbakam' (The world is a family). There are several similarities between deep rooted India's culture since Rigveda and China's profound and rich history and culture, and their ancient civilizations." pointed Kong Xianhua, the Chinese Consul General in Mumbai.
The Chinese language education is flourishing in Mumbai with the University of Mumbai, the Somaiya University and India China Academy providing Chinese language courses. The Consul General was highly impressed with the excellent Chinese skills and outpouring passion about Chinese culture of the student participants.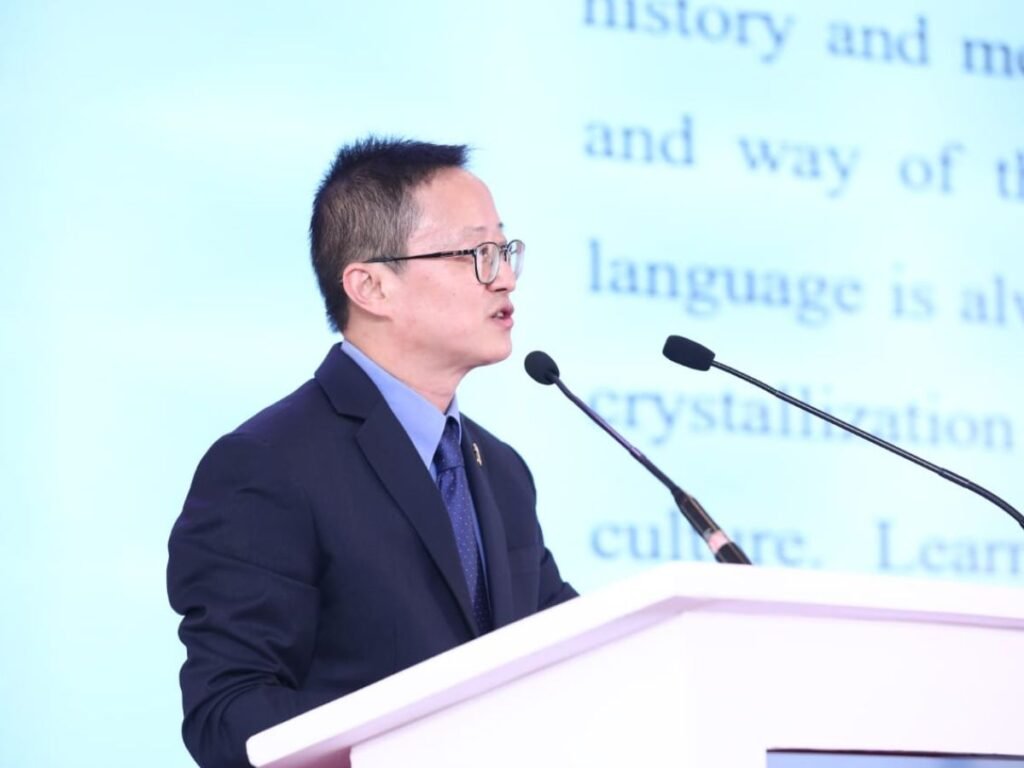 Mr. Kong Xianhua, the Chinese Consul General in Mumbai elaborated, "I believe, as long as we overcome the barrier of language, we could reach a new stage of better understanding and stronger consensus between India and China. This competition has a 3 point agenda – we can build a bridge of civilization exchanges, secondly, by learning Chinese, we can build a bridge of win-win cooperation between the two biggest developing countries in the world, and thirdly, by learning Chinese, we can build a bridge of national rejuvenation together. This will be an important contribution to enhancing our thousand years' friendship and building a community with a shared future for mankind!"
If you have any objection to this press release content, kindly contact pr.error.rectification[at]gmail.com to notify us. We will respond and rectify the situation in the next 24 hours.